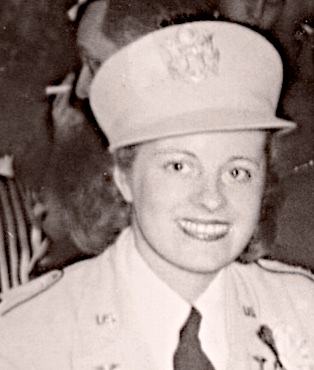 For the duration of World War II, Doris Gardner performed the duties of a Lieutenant (2nd & 1st) in the Army Nurse Corps. While in high school, Doris had decided to become an airline stewardess to travel the world. In those days a flight attendant needed nurse's training, so off she went. By the time she graduated, war was on the horizon. Doris got her wish to travel the world, but on a lot more than an airplane.
Onboard the newly commissioned U.S.S. Comfort, while docked in the Bay of Okinawa, Doris Gardner and Mary Rodden, best friends from small towns in Wisconsin, would sneak out on to the forbidden upper deck to watch the war.
Beyond the low lying hills the battle was raging. Fierce thunder and blood-red flashes filled the sky twenty-four hours a day. All around them in the waters of the Bay of Okinawa the battle was in its fore-stages. Whole ships sunk on either side of the new, bright-white hospital ship. The vessel rocked violently, threatening to spill them overboard as whole ships went down on both sides of them.